460Z5 Electric Paper Guillotine
460mm cutting width with Programmable digital display – Independent Power Clamp
Ex VAT: £2,150.00
Delivery: £80.00 (UK Mainland only – Please call for quotes outside UK)
TOTAL: £2,230.00 plus VAT
The 460Z5 will take an SRA2 sheet size
The 460Z5 paper guillotine has a cutting width of up to 460cm wide.
This will allow a sheet size of SRA2 (width) to be placed into the machine.
The 460Z5 has a max 60mm pile height
The 460Z5 electric paper cutter has a maximum pile height of 60mm allowing a ream of 80gsm bond to be placed into the machine.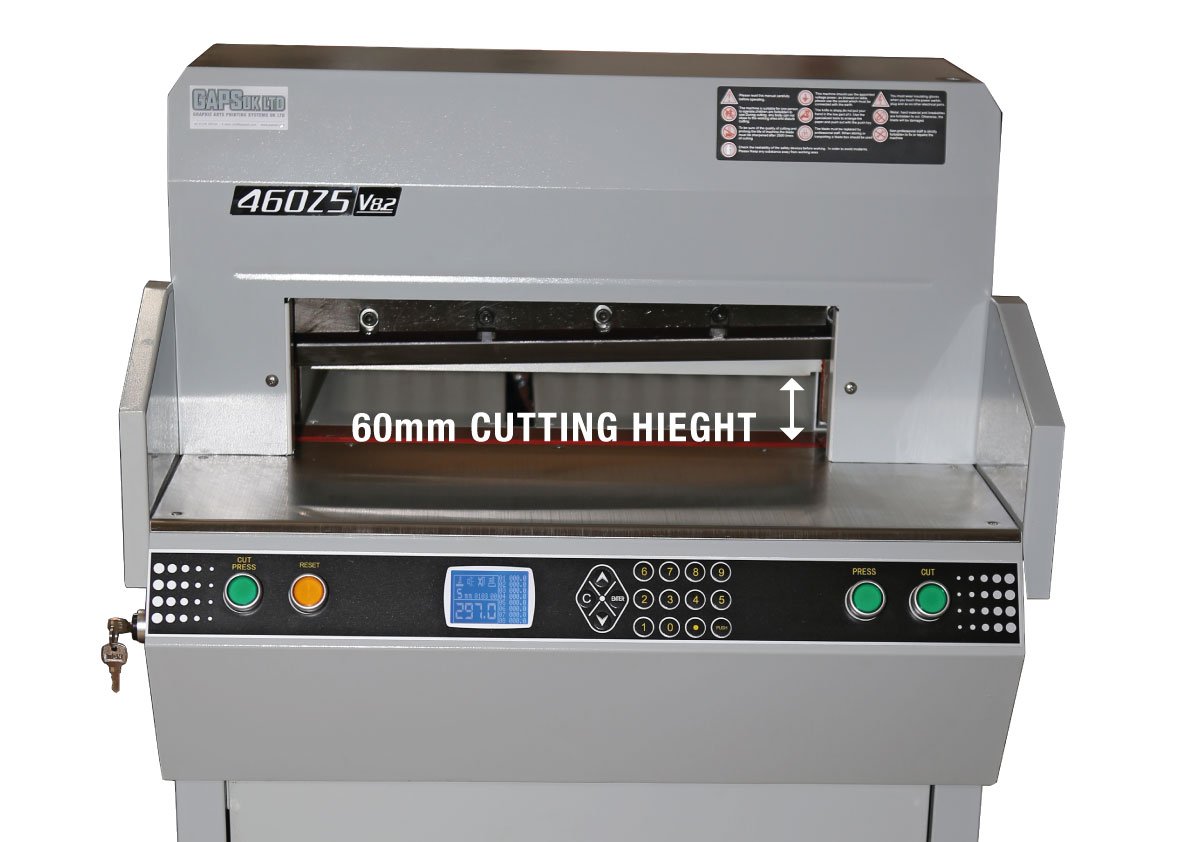 Adjustable power clamp pressure
As well as being an independent paper clamp, the 460Z5 allows you to adjust the clamp pressure ie should you have a soft/delicate paper or card, you can lessen the clamping pressure to avoid marking.. Equally, should you have a heavy/slippery card stock, you can increase the pressure to help avoid it moving during the cut.
The 460Z5 programmable paper cutting
The 460Z5 electric paper cutter has the capability to store up to 80 programmable cuts. Ideal if you have a regular job that requires a large number of multiple cuts, ie 20-up business cards cut out of an SRA3 sheet size or a large print run, ie 10k A5 Leaflets cut from a stack of SRA3 sheets. By programming a series of cuts, you can reduce your handling time by completing all cuts from one paper pile at a time.
Description
460mm cutting width (A2 + Electric Paper Cutter Guillotine) with Programmable digital display – Independent Power Clamp
Easy cut SRA2 to SRA3
Extra deep front cutting table
Independent electric paper clamp
Maximum pile height 50mm
Cutting depth 460mm max. - 30mm min.
Full LCD digital programmable display
Light beam cutting guide
Light Beam Safety Guarded – CE approved – 240v power
Complete with cabinet / stand
Complete with necessary tools
Gross Weight 175 kg
Additional information
Weight 175 kg
Dimensions 105 x 99 x 76 cm
Only logged in customers who have purchased this product may leave a review.